If your headphones are connected to your TV by Bluetooth directly or using your TV Streamer, and you are unable to hear any sound, you may need to adjust the sound settings on your television.
Modern TVs offer the option for various digital channels and specialty formats. This can mean your TV is sending sound in a way that isn't recognised by your headphones. To fix this, you will need to change your audio settings to PCM (Pulse Code Modulation).
This solution is only available if you have a TV with Digital Optical Audio Output.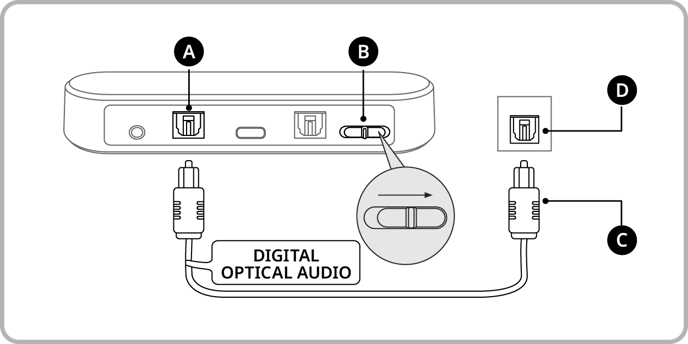 Legend
A: Digital In
B: Audio Input Switch
C: Digital Optical Audio Cable
D: Digital Optical Output (TV)
Check that the TV Streamer is connected to the TV with the provided Digital Optical Audio cable.

Remove plastic caps on both ends of the cable.
Plug one end of the cable into the TV Streamer at Digital In, and the other end into the Digital Optical Output of your TV.

Check that Digital is selected as the Audio Input option on the TV Streamer.

Slide the Audio Input Switch to the right to select Digital.

To select PCM in your TV audio settings:

Open the Settings Menu on your TV
Select Sound Settings, then select either:
Additional Settings / Advanced Settings / Expert Settings / SPDIF Settings
Please note, every TV is different - the appearance and language of the settings menu may vary slightly depending on your TV.
Select either:
Digital Sound Output / Audio Format.
Please note, HDMI Audio Format is not the same as Audio Format.
Select PCM.
If you still can't hear sound through your TV, try resetting the TV Streamer.
Please book a support call with our team if you need additional assistance.