Your A-02 TV Bundle comes pre-paired. Follow the steps below if you need to re-pair your headphone to your TV Streamer.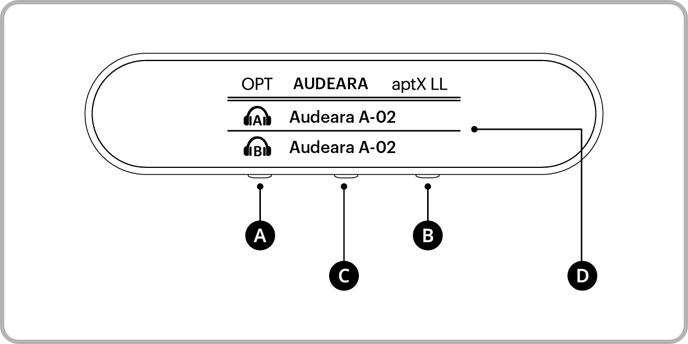 Legend
A: Button A
B: Button B
C: Multifunction Button
D: TV Streamer screen with devices listed
Make sure the TV Streamer is connected to power, and the screen turns on.
Hold down the 'A' or 'B' button on the TV Streamer for 3 seconds.


The screen on the TV Streamer will now say "Searching…"

Put the headphones into Pairing Mode, by holding down the Multifunction (middle) Button on the left ear cup for three seconds.

For more information on putting your headphones into pairing mode, see here.

Once both the TV Streamer and the headphones are in Pairing Mode, the TV Streamer will discover the headphones and the name will appear on its screen.
Using the 'A' button to navigate up and 'B' button to navigate down, highlight the headphones you would like to connect to on the screen.
Select the headphones by pressing the Multifunction (middle) Button on the TV Streamer.

The TV Streamer will now connect to the selected device. You will hear an audible prompt from your headphones that says "Connected".
You should now be able to hear audio through the connected headphones.